If you have never bought Ziptrak, Zipscreen or Slidetrack outdoor blinds, you may be wondering how much do outdoor blinds cost?
A quick search on google would have the price at a few hundred dollars. But is this even realistic?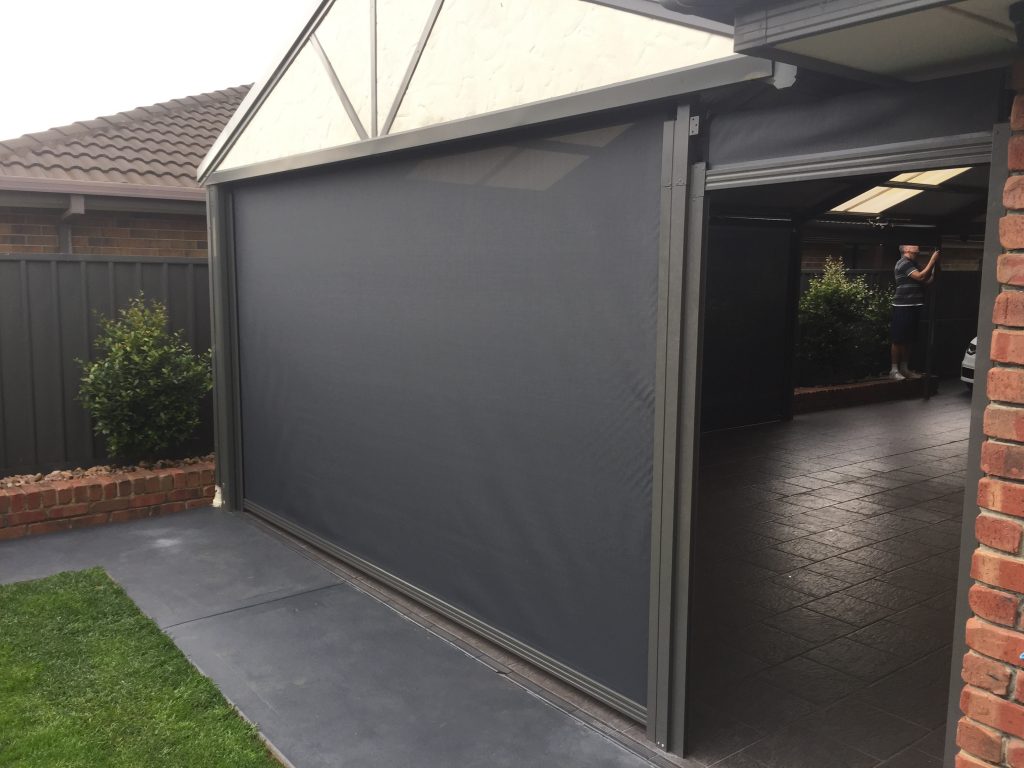 So How Much Can We Expect to Pay for Outdoor Blinds?
Ziptrak, Zipscreen and Slidetrack blinds are essentially the same price. For comparative pricing we need to make a couple of assumptions.
The size of the opening to use as standard is 2.5 metres wide by 2.4 metres high
A head box is not included in the price
Basic installation costs are included
The method of operation priced is manual
How much do outdoor blinds cost in Adelaide? Based on the above assumptions, a reasonable investment for a single Ziptrak, Zipscreen or Slidetrack blind is between $1,100.00 to $1,500.00. Besides the fabric selected other causes of the price variation are discussed below.
So What Might Cause Variations In The Above Prices?
These prices might vary for a number of reasons
The installation is non-standard
Motorisation or crank operation might be desired
Head box or hood might be desired
Any or all of these reasons can have a mild to significant impact on the price of restrained guide outdoor blinds in Adelaide. 
Why Are These Factors Not Included?
Basically the factors above are not included in this post because it will get all too confusing. This is because there is quite a lot of variation in each of the above factors.
While they are common additions to outdoor blinds, each company has different standards and recommendations. So let's have a look at each one.
Installation
While most installations are standard, it goes without saying that complex installations incur more time and or materials to complete and cost more. If you think that you have a complex installation, you are probably right. Sometimes we find easy ways to solve what may seem like a difficult installation but sometimes we can't.

Motorisation
Not all motors are the same. Even within the same class and/or manufacturer. Most manufacturers have various ranges depending on requirements and budget.
Motorisation for outdoor blinds can also include a lot of additional features. These features may be wind sensors, sun sensors, movement sensors as well as integration with smart home apps.
Head Boxes or Hoods
Ziptrak, Zipscreen and Slidetrack blinds all have their own hood and head box options – and multiples of. Depending on the situation, you may want a hood or a full pelmet. 
You might also want a fully extruded head box for extra strength or a roll formed head box  for protection and finished look.
What Should I Do If I  Want to Buy Outdoor Blinds?
If you are wanting to buy outdoor blinds there a number of things we would recommend.
Get multiple quotes – just because a company says they have a sale or the sales rep says its a great deal doesn't mean it is.
Get specifics on the quote – trying to compare quotes can be difficult. Details on quotes are often scarce. Taking notes is a great way to ensure you can compare apples with apples. (we include a notes section in our brochure for this reason)
 Remember that the quality of the job has a lot to do with the installer – Products may be similar but if a great product is installed poorly – the end result is poor. So make sure you trust who is installing the job not just the company selling the job. It can be difficult to get things fixed after the installer leaves.