Invisgard Vs Alu Gard? What is better and how much is the price difference? For those of you looking for a modern security screen door solution, Alu gard and Invisigard are two excellent options. We often get asked what the differences between the two mesh types are. This post will outline some of the key differences and similarities between the two types of security screen door mesh solutions, so that you will be able to make the right choice for you, Finally we will look at the price differences between the two door options.
Some of the Similarities
Both Invisigard and Alu gard are manufactured and distributed through Alspec Aluminium. Alspec is an Australian owned manufacturer of high quality aluminium products for the commercial and residential markets. (https://www.alspec.com.au/intro-alspec)
Both types of mesh are suitable for clean lined security screen doors. That means neither mesh type requires the addition of grilles or bars to pass Australian standards for security mesh shear tests. Because of this, both mesh make for a modern style of security screen door or window.
Both mesh types have similar competitor products in the market which are marketed under various different names. 
Other than being manufactured by Alspec, being suitable as stand alone mesh solutions and having similar competitor products marketed under different names, the similarities pretty much end there.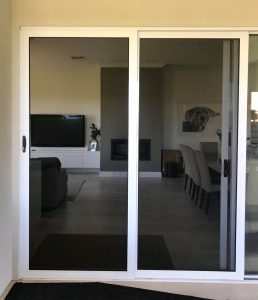 Let's take a closer look at each door individually and find out the differences.
Material
Alu Gard mesh is made of a solid perforated aluminium sheet. As the first picture shows, the holes are round. According to the Alspec website, the mesh is made of a 1.6 mm thick sheet with hole aperture size of 2 mm. The overall mesh openness is 40%. The mesh meets the Australian Standard AS5041 – 2003 for Knife Shear test, Dynamic impact test and the Jemmy test. The mesh is colour is Matt Black
Invisi Gard mesh is made by Meshtec – a global leader in the manufacture of high tensile stainless steel products. The mesh itself is woven out of 316 marine grade stainless steel, providing a more traditional fly mesh appearance as seen in the first picture above. Stainless steel is also stronger than aluminium making the mesh the solution for premium security options.
While both aluminium and 316 marine grade stainless steel have excellent corrosion properties, it is notable that the Invisi Gard door also has a 15 year warranty compared to Alu Gards 7 year warranty. While this is a notable manufacturers warranty difference, both doors in our experience will far outlast these warranties providing protection for your family for possible decades.
Frame
Both mesh types are fitted within an extruded aluminium frame. However the Invisi Gard has a specific frame which is required to be used under licence. The frame design of the Invisi Gard ensures that it maintains strength, durability and style. 
Alu Gard while manufactured in an extruded aluminium frame is not required to be manufactured in any specific frame. This means that the style, durability and strength of the finished door can vary from manufacturer to manufacturer.
Fixing Method 
This is crucial difference in the manufacturing of the two types of doors. Aluminium and stainless steel are reactive and when placed against each other create a galvanic reaction. A galvanic reaction is one where by one metal will cause the other to corrode faster than usual. Because of this the Invisi Gard system is protected using its patented EPG fixing method. This patented method of retention does not rely on screws or other forms of mechanical retention ensuring any possible galvanic reaction is avoided.
Such a galvanic reaction is not a concern for the Alu gard door system as both the mesh and frame are made of the same metal – aluminium. Typically the door can be riveted or screw clamped with the assistance of an aluminium wedge strip. 
This fixing system means the Invisi Gard door will look more streamlined without rivets or screws creating a premium and stylish looking door.
Locking
The Invisi Gard door is marketed and manufactured under licence as a security screen door and as such comes standard with a triple lock. A triple lock or three (3) point lock means that the door locks in three places – the middle, the top and the bottom. Ensuring the door passes the Jemmy test ensuring compatibility with Australian Standard AS5041 – 2003.
The Alu Gard door on the other hand may be manufactured with a single lock relegating the door to safety door status. With a triple lock, the Alu gard door is rated as a security screen door meeting Australian Standard AS5041 – 2003. The quality of the locks used will vary from manufacturer to manufacturer.
Visibility and Airflow
While both mesh options offer good visibility and airflow, there is no question that the Invisi Gard Security Screen door offers greater visibiltiy. Airflow is pretty good for both but the Invisi Gard has slightly greater openness and thus is better for airflow as well.
So How much do Invisi Gard or Alu Gard doors Cost?
Price will depend on the manufacturer/retailer, the size of the door and possible inclusions needed. For a quality made Alu Gard security screen door you should expect to pay around $550.00 to $650.00 including installation.
An Invisi Gard door will likely set you back in excess of $780.00-$1,000.00 for a standard sized door.
Invisigard Vs Alu Gard – The Conclusion
Both the alu gard security screen door and the Invisi gard security screen door offer great solution for security and airflow for you home. If manufactured correctly and in accordance with standards, both options pass and exceed the Australian Standard AS5041 – 2003 for security screen doors.
Probably the defining difference between the two options is the 316 marine grade stainless steel mesh and the licencing requirements need to manufacture the Invisi Gard door. By keeping these stringent licencing requirements, customers can be assured that the door will be made to the highest of standards. This will ensure a great looking door that will last for decades continuing to look good and keep your family safe.
Not sure that either of these options are right for you? Your World Outdoor Blinds and Shutters sell and install a range of other security screen solutions which may be more what you are after. Click here to find out more. If you would like to get a quote or have other questions you would like to ask, just fill out the form below and one of friendly team we will be in touch.